Security Update on July 21, 2020. Your action is required.
We know that security and protection are vital features you look for in banking, which is why we are excited to announce a new security update to our product line. On July 21st, we will be introducing a new security feature that will integrate cyber security protections to detect fraud, while ensuring you have a positive online banking experience.
Every time you login we use strong multi-layer security that not only confirms your credentials but also the device you are using. When a new device is detected, or our system detects suspicious activity, you may be asked to further verify your identity in order to keep you and your account secure. Your enrollment in this online banking process security program is required.

One-Time Enrollment Setup:
When you log into your Online Banking account through our website starting on July 21st, you will be prompted to provide your mobile phone number.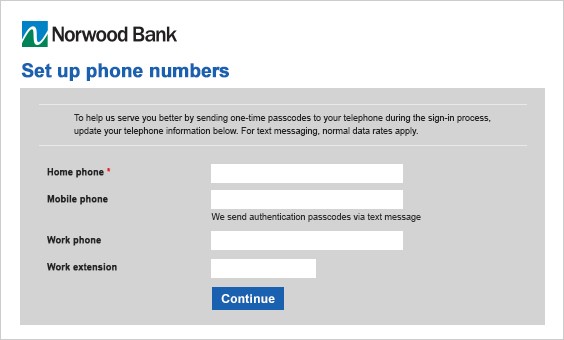 You will receive a text message confirming your enrollment, and automatically be logged into your online banking account.
What to Expect Going Forward:
This new security feature will replace the "Security Challenge Questions" you have become accustomed to. It will only be prompted if it detects a login attempt that may fall outside of how you typically login.
When that happens, after you input your username and password, you will be prompted to request a one-time pass code via text message or phone call. Once you enter the pass code you will be logged in to your online banking, helping to keep you and your accounts safe.
We continue to look for ways to improve the security of our online services. If you have any questions, watch our
video tutorial
or call Customer Support at 781-762-1800 during banking hours.